With every passing year, the online creative epoch grows larger and larger, seemingly to no end. There is more revenue to be made than ever and with the upward trend climbing only higher there seems to be no better time to carve out your own space in the digital creative marketplace. However, a market that is inherently accessible also brings the promise of oversaturation, so how do you stand out in a market where the barrier for entry is a smartphone and an internet connection?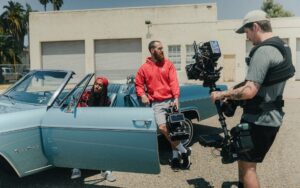 To suggest that creating innovative and original content is the secret to creative success online seems obvious (and much easier said than done) and although certainly an admirable and rewarding ambition, it isn't the entire picture. Even ten minutes of navigating the YouTube homepage will reveal hundreds of millions of views worth of formulaic videos across all genres of content. But by no means should you take from this that unoriginal and derivative content is the sure fire way to success, it should simply highlight the unignorable importance of production value. An original idea with no production value means unreached potential, an unoriginal idea with high production value means success through mediocrity, but an original idea with high production value has the ability to reshape and influence the entire creative landscape. 
The most integral part of a piece of content's production value is the camera. Content creation is a form of visual art and the camera is the equipment that the medium is largely dependent on. Of course, the camera that best suits your needs depends on a number of factors, so we want to present a number of options that suit a wide range of requirements and budgets. 
Sony VZ-1 ($700)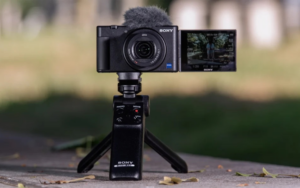 The list of things to say about this camera is fairly short, and that's by no means a bad thing. The VZ-1 is marketed as a 'vlogging camera' but in reality it's simply a reliable and quality camera for the price point, if your content is best shot with multicam, investing in a couple of these could be a great cost effective way to set it up. The built in microphone leaves a little to be desired but it's nothing a couple of entry level Rode can't solve. The flip out screen allows you to monitor the footage in real time. If you need a good all rounder, a jack of all trades, master of none (except cheapness!) then look no further. 
iPhone Camera ($900)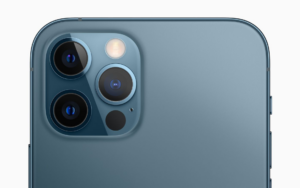 The iPhone camera, arguably the foundation of the content creation landscape we experience today. The camera that comes built into the handheld device has evolved throughout the years and models, and with each upgrade comes a new universal standard of expected quality when it comes to content creation. Filming content on an iPhone is nothing to be scoffed at, the iPhone 14 comes with a 12MP primary camera, with 2 additional lenses for macro and wide options. The crisp quality is certainly good enough for most entry level content. Just be aware that the newest iPhones film in HDR format as a standard, so don't be surprised when your clips look overexposed in your editing software, this can be fixed easily. 
One potential drawback is the lack of hot shoe mount, greatly limiting the accessories you can use whilst shooting. The lightning port can be used to plug in a microphone but doing so prevents the phone from being able to charge whilst filming (which is a major drawback for longer shoots). However this may not be as great a problem when you take into account that the iPhone's has a relatively great built in microphone compared to the built in microphones of the camera alternatives. 
Blackmagic Pocket Camera ($1,600)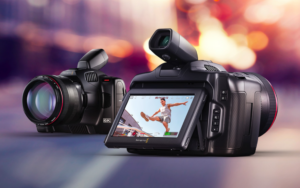 Blackmagic have become a formidable name in the camera industry since exploding onto the scene in 2012 with the release of their first cinematic camera. The first model of their Cinema Camera was a disruptor due to its comparatively affordable price for the cinematic quality it offered. A few years and models later, we arrive at the Pocket Camera. Aptly named for its small and ergonomic design, the Pocket Camera allows creators to take the immersive power of Blackmagic cinematic filmmaking to places previously unimaginable. It also strips back a lot of the complex interface and instead offers an intuitive and streamlined user experience. 
Potentially the biggest downfall of the camera, however, is the battery life. As you should expect, shooting at cinematic quality on a very small camera means a hard working battery. Blackmagic states that the battery lasts 'approximately 60 minutes', which depending on your desired use, may just not quite cut it. Cinematic video may also just not be what fits your content best, if your content is more lifestyle, food or education focused, then perhaps a more robust and less specialised camera may suffice. 
Sony FX6 Full-Frame Cinema Line Camcorder ($7,000)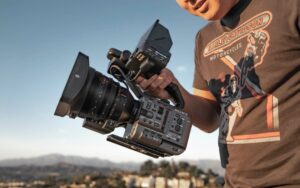 So what if money is no object? More money means a better camera, right? Well not necessarily.  Often with cameras, the more the price increases, the more specialised the camera becomes. So if you plan on spending an arm and a leg, it's important to do extensive research on what kind of camera truly fits your needs. 
If you want a solo operator, lightweight and easy to use high end quality camera, the FX9 may be the perfect fit. The Cinema Line camera is extremely lightweight and nimble for what it delivers, which is a sharp sensor, great stabilisation features and a cinematic, glossy final image up to 4K resolution.
Now some may argue that a modern camera at this price point that can only record 4K seems strange, since a lot of the competition is doing 6K and 8K. However, actually needing to record at 6K and 8K is quite rare, since the majority of content consumed in the online space is either HD or UHD, and that's unlikely to change anytime soon. Yes, you could argue that capturing at a higher resolution allows for more flexibility with in post or downsampling to get a better 4K image, and that may be true, however, if you are capturing in 4K and delivering your content in HD (which a lot of people are) you don't need resolutions above 4K, especially considering most online platforms don't even accommodate such resolutions.
So what should I go with?
Of course, we can't give a definitive answer. The first step we recommend is writing down your budget, the specifics of your content, and working out what is the most important visual aspect to you. Is your content cinematic and focused on storytelling? Do you need as many cameras as possible within your budget? Does your content aim to inform or inspire? Questions like these can be a great start in the search for the perfect camera, and we hope our recommendations can help point you in the right direction! Happy hunting.