Over the years, YouTube has provided amazing videos. This is thanks to YouTube creators and their YouTube channels. Similarly, you have to be careful about what content you are consuming. YouTube channels with millions of subscribers do not necessarily have to be the best channel for you. It is the content that makes YouTube one of the best platforms for lighthearted entertainment and new learnings. Here are 10 YouTube channels to follow in 2021.
#1 Kati Morton
Video Content: Mental Health & Psychology
Subscribers: 1.02 Million
Joined YouTube: 2011
Kati Morton is a licensed therapist and talks about psychology and mental health. She can evoke the most complex topics in very accessible ways. Likewise, she creates amazing self-help videos that improve self-esteem. This way her YouTube channel can help someone suffering from mental anxiety or depression.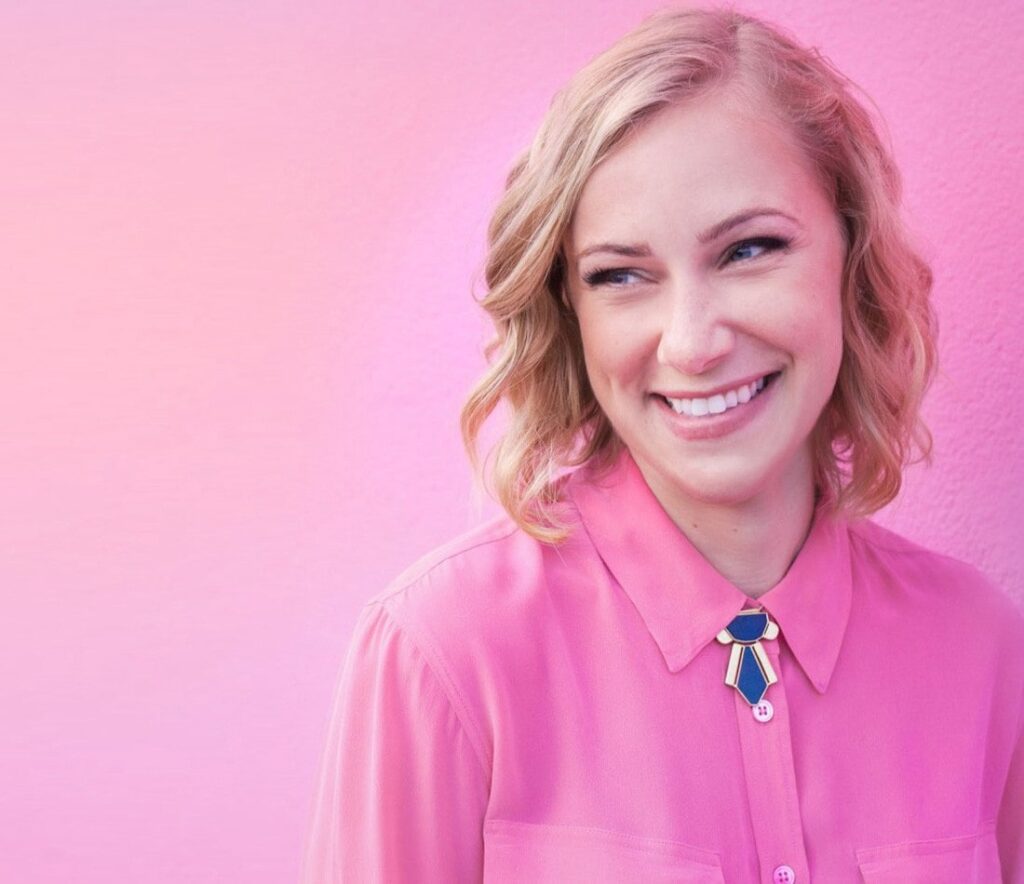 Whether it is to do with Top 10 Life Stressors or Post Trauma, her videos are all very informative and helpful. By the same token, her video on sleep paralysis and relationship issues are life savers.
The rising uncertainty during COVID-19 has led to a reported increase in the number of suicide cases and mental illness. Therefore, Kati Morton's channel is one of the best 10 YouTube channels to follow in 2021. She has also published the book "A Guide to Caring For Your Mental Health".
#2 How It Should Have Ended
Video Content: Entertaining Animated Videos
Subscribers: 9.96 Million
Joined YouTube: 2007
How It Should Have Ended, also known as HISHE, is a super entertaining YouTube channel that uploads animated parody videos of major motion pictures. This cool team is fun to watch with parents and kids. Some of the popular uploads are How Avengers Infinity War Should Have Ended and How Harry Potter Should Have Ended.
They also have feature parodies made from other channels and do episodes called "HISHE Reviews". Whether you are a fan of superheroes, classic films, or Star Wars, this channel remains entertaining all the way into 2021.
#3 Lily Singh aka || Superwoman||
Humans tend to overcomplicate simple things because we overthink them. But if you take a step back and remember your priorities, it becomes easier to make a decision.

A Guide to Conquering Life Lilly Singh, How to Be a Bawse
Video Content: Entertaining Videos
Subscribers: 14.9 Million
Joined YouTube: 2010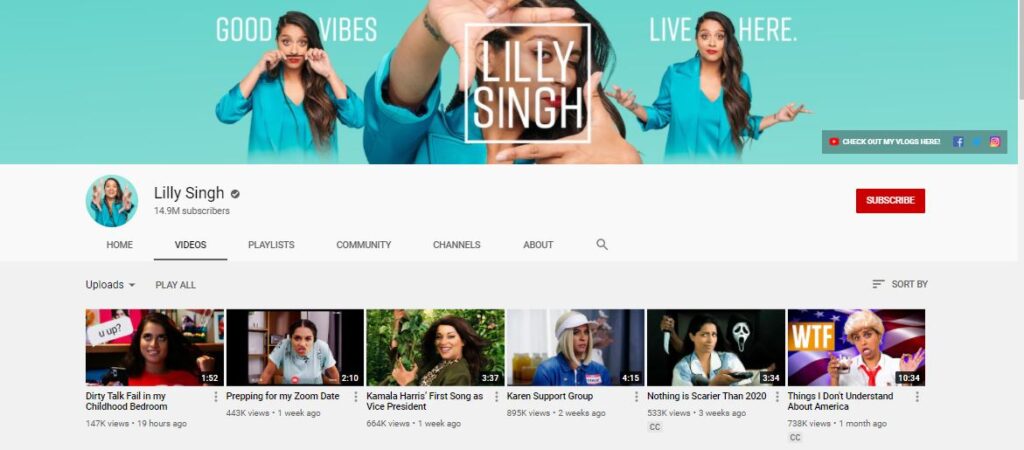 Lily Singh is a Canadian YouTuber, a comedian, and a talk show host. Her early content was focused on her ethnic background and Indian heritage. Later, she began uploading videos in different contexts.
She is the world's highest-earning female YouTuber and she has now expanded her career beyond YouTube. She is the author of self-help books like "How to Be a Bawse: A Guide to Conquering Life", and is a pretty stellar human being in general. For instance, she has been giving cash to her fans to help with their financial problems. Her entertaining videos are worth your watch in 2021.
#4 Minute Physics
If you can't explain it simply, you don't understand it well enough.

Rutherford via Einstein
Video Content: Physics / Science
Subscribers: 5.18 Million
Joined YouTube: 2011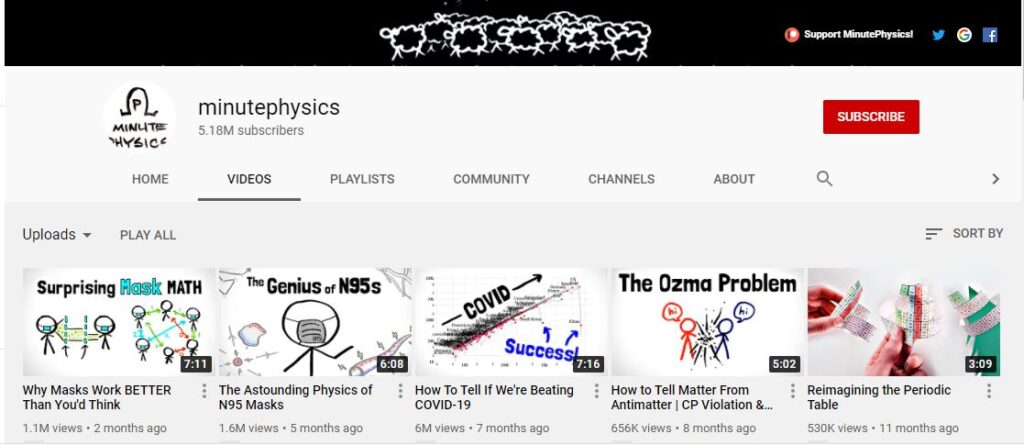 If you want to learn physics but have a short attention span, then this channel is for you. Most of the videos on this channel are around 90 seconds. So, you should not feel totally lost when there are a bunch of geek friends discussing physics topics.
From exciting 3-minute tutorial on How to Build a Lava Moat to Einstein's Biggest Blunders, this channel is a favorite for children too. Moreover, the channel helps explain complicated things in simple ways. The trend of "explainer" videos have been increasing and this channel is one of my favorites to follow in 2021.
#5 Household Hacker
Video Content: DIY Hacks
Subscribers: 4.97 Million
Joined YouTube: 2007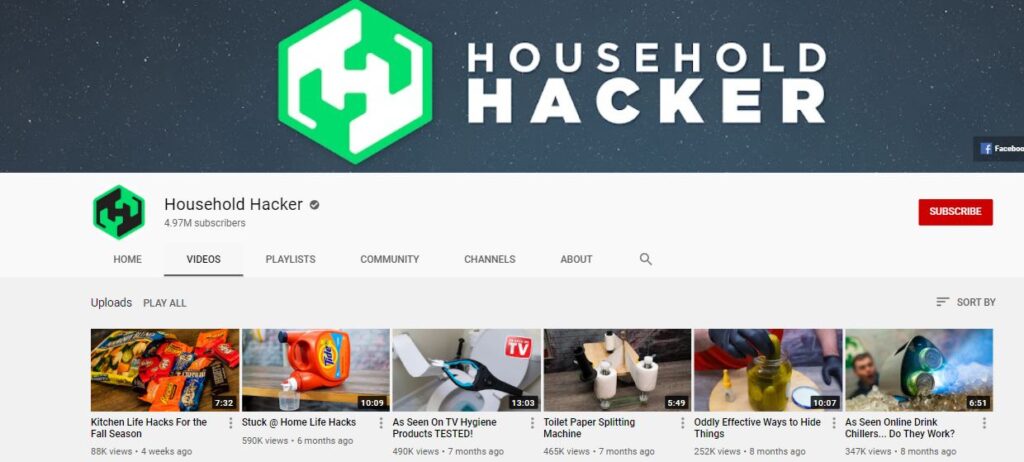 Household Hacker is your next-door channel if you are a fan of DIY projects. They make cool videos for hacks like making mosquito repellant, getting rid of ants, reusing iron, hairdryers and so many more. Some ideas may sound weird. But, trust me these hacks are super cool and worth trying as they can help you solve everyday problems.
#6 CrashCourse
Video Content: Educational Videos
Subscribers: 11.6 Million
Joined YouTube: 2006
Intending to provide high-quality educational video accessible to everyone, Crash Course uploads educational videos. The team has produced more than 32 courses on a wide variety of subjects like literature, theater, organic chemistry, world history, philosophy, and many more. This way teachers can show interesting videos to students to help them learn the lesson better. A deeper understanding of life lies inside continuous learning. Hence, this channel effortlessly makes you learn great things in a short period.
#7 Ted
Video Content: Ted Conference Talks
Subscribers: 18.4 Million
Joined YouTube: 2006
If you are active in this digital realm, you must be well aware of how splendid Ted Talks are. TED Conferences are the best talk shows of the century. Their slogan "ideas worth spreading" is enough to know that Ted Talk is one of the best YouTube channels to follow in 2021 and ever. This channel features the best talks of the TED Conference. The short videos are mostly focused on entertainment, technology, design, and motivational speeches. The channel never runs short on engaging content. Subscribe today to hear ideas from the greatest minds in the world.
#8 Jamie Oliver
Video Content: Cooking Channel
Subscribers: 5.29 Million
Joined YouTube: 2006
This foodtube is for those who love to cook delicious delicacies. Jamie Oliver is a British chef and a restauranteur. Likewise, he has published many cooking books. This channel is all about wonderful food, tutorials, fresh talents, and YouTubers. The audience is consistently engaged, as Jamie never fails to inspire his audience, either with his spectacular shows, restaurant opening, or books. This would be your next binge-watch if you are into the culinary world.
#9 Vice
Video Content: Informative Videos
Subscribers: 13.5 Million
Joined YouTube: 2005
Vice is a Canadian-American magazine that focuses on arts, culture, lifestyle, and news. With the advent of the technological shift, we can find enlightening information on the Vice YouTube channel. They talk about weird stories, how people think about different art, culture, and fashion. This is not an ordinary news channel with gossips and the latest trends. Moreover, this channel immerses the audience in the content out of the box and we can hear the unheard voices.
If you want to explore the world beyond your imagination with spicy stories, this channel is worth subscribing to in 2021. You can also join other related channels like Munchies, VICE News, VICE Life, and many more.
#10 Fearless & Far
Video Content: Travel Videos
Subscribers: 349 K
Joined YouTube: 2006
I'm sure you have seen many travel vlogs and channels. But this is one standout channel, with breathtaking travel stories from Mike Corey. You will find videos of strange places, crazy festivals, and quotes from Mike about his unique experiences. He is a marine biology graduate who turned out to be a filmmaker. Later, his intense passion for travel led us to his amazing experiences through his YouTube channel.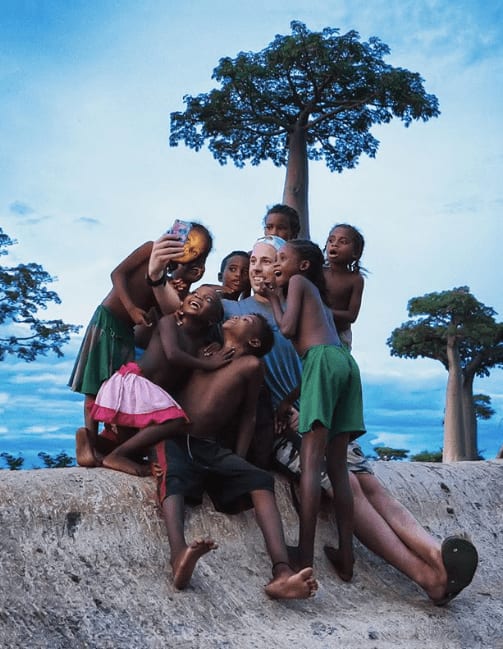 If you want to see crazy experiences and dive into adventure, Fearless & Fear is just one click away.
These are my favorite picks of 10 YouTube channels to follow in 2021. There are many insightful YouTube Channels to subscribe to and engage with. It's just up to you to figure out your interests and preferences on what to follow. Want some tricks on how to create dynamic Instagram stories? Also, keep browsing BAM's catalog for the latest music.