TikTok is becoming a go-to platform for advertising agencies. But as this platform is new, so are the ways you can launch a marketing campaign on the app. Through this article, we'll see 5 inspiring marketing campaigns on TikTok to give you some insights on how advertisers can make the best of this app!
#1 Hashtag Challenge Plus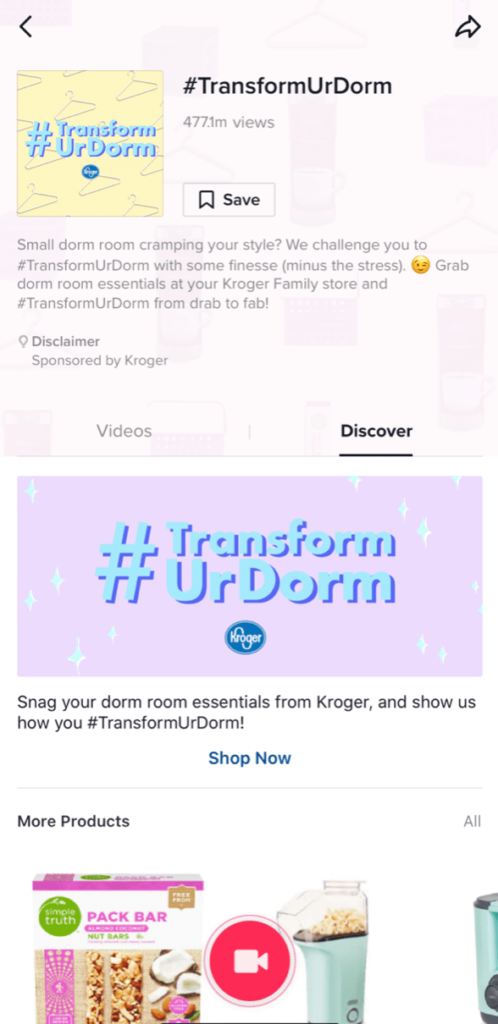 TikTok is initially about entertainment and community. But there are different marketing campaigns than you could think on TikTok platform. There's even a whole feature dedicated to it. And that's the Hashtag Challenge Plus. This feature consists of a hashtag with a dedicated page that tells more about that hashtag's purpose, and an e-comm page of the brand's website. For instance, Kroger led a marketing campaign with the #TransformUrDorm, where TikTokers could post a makeover of their room (with items bought at Kroger). The hashtag landing page led to suggestions of products for the TikTokers to buy. The hashtag has 905M views as I'm writing this article. However, this feature comes with a cost as we previously saw on our previous article.
#2 Fructis Hair Food Challenge
For its new product "Hair Food", Garnier launched an advertising campaign on TikTok using a crucial feature of the app "filters". In addition to the creation of a dedicated hashtag, Garnier created a filter that TikTokers can use. The filter wasn't something very extraordinary to be honest, just a bottle of shampoo. But it was still efficient to create a successful TikTok challenge. People would jump into the bottle and come out with new hairstyle. This glow up trend was a great way to advertise about Garnier's new product. The hashtag has 176.2M views right now.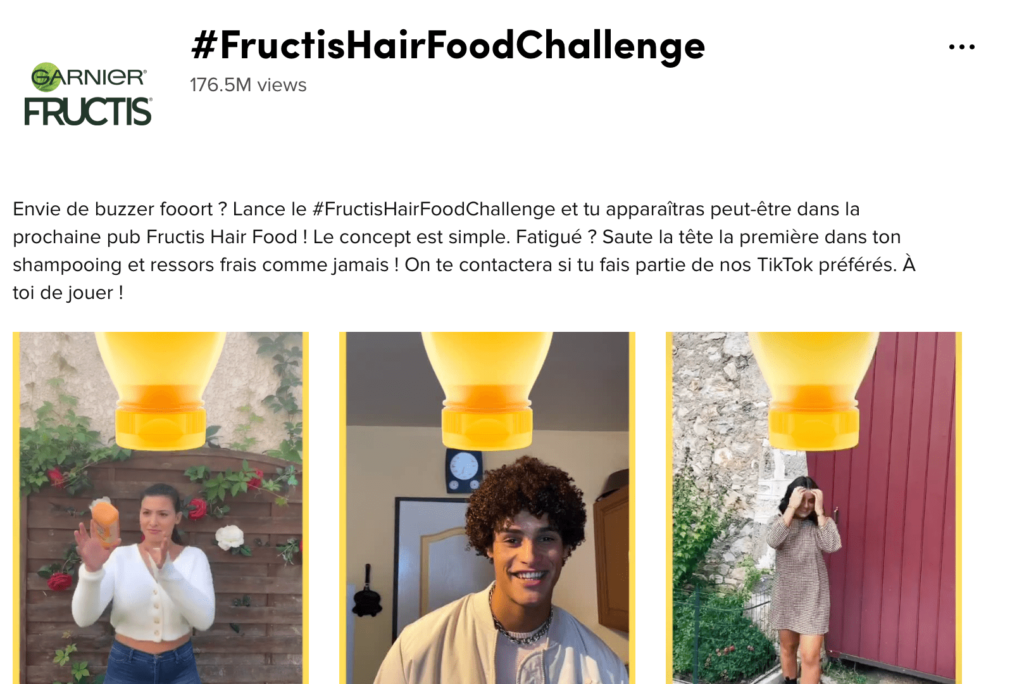 #3 Skechers
Some of the best advertising campaign are just pure luck. And that's certainly what happened for the sneakers brand Skechers. In April 2020, a 1:46 song wrote by Pakistani-American YouTuber DripReport literally blew up the charts. This success can be attributed to TikTok challenges that were made using this song. In total, around 3M videos were made with this song, generating more than 5 billion views. It could have been just a TikTok trend but the financial impact for the brand was huge. Even if the brand wasn't at the origin of this challenge, it worked like a real advertising campaign. Following the success of the challenge, Skechers has seen a growth in its e-comm of 400%.
#4 Chipotle LidFlip Challenge
Another channel for advertising that can be efficient are popular TikTok influencers. Relying on famous TikToker can be relevant since you will have access to a wide audience. It can be a great way of advertising a brand to sign deal with TikTok influencers for product placement. Classic example of such marketing campaign, Chipotle which paid Internet superstar David Dobrik to participate to a "LidFlip Challenge" to promote the brand. His video has 6.3M views, but a lot of TikTokers made their own as well. Product placement is also a common thing on TikTok, but challenges make it more natural among other videos on the platform.
#5 "Glow Up" videos
Glow Up videos are a classic type of videos on TikTok. Every now and then, new glow up trend becomes popular. And that can be very interesting for beauty brands. Make up brand can take part in such trends by paying influencers to use their products and show how useful those products were to help create such amazing transformation. There are countless marketing campaigns of this types on TikTok. But let's just see that one from TooFaced to give you an example.
Thus, we spanned the most effective types of marketing campaigns on TikTok. As social media are constantly evolving, it's crucial to stay updated on what is trending and how brands are changing their way of advertising. Hopefully, you now have a clear overview of how brand can make the best of TikTok for their advertising campaign! Becoming a TikTok influencer is challenging , yet an interesting journey to tread.
Looking for trendy music to use for your marketing campaign? Check out this Cool Kids Playlist from BAM Music!