We can see the magic of VFX everywhere. Have you ever wondered how do the big beautiful dragons fly in the sky in Game of Thrones? Thanks to the advancement of technology that makes us see and hear the fantastical world beyond existence. To those YouTubers who think VFX is only a video game and big cinemas thing, this article is for you. Yes, you can have VFX in your YouTube videos too. Here is everything YouTubers need to know about VFX.
Stages of a filmmaking
Before we dig into VFX effects, here are the 3 stages of filmmaking:
Pre-production: It is a stage of filmmaking where you develop a script and finalize the project.
Production: During production stage, the real filming takes place. The set can be either a real set, studio or a green screen.
Post production: This is the stage where we apply visual effects to the footage, editing to make the sound and video ready.
What is VFX?
VFX stands for Visual Effects. It is the process of creating and manipulating Computer Generated Imagery and combining it with live-action elements. Moreover, VFX includes the integration of the actual footage and manipulated imagery that gives a realistic look. They include fictional scenes or ones that are risky to shoot. The most common tool is a green screen. Certain VFX need specialized software.
What is the difference between VFX and Animation?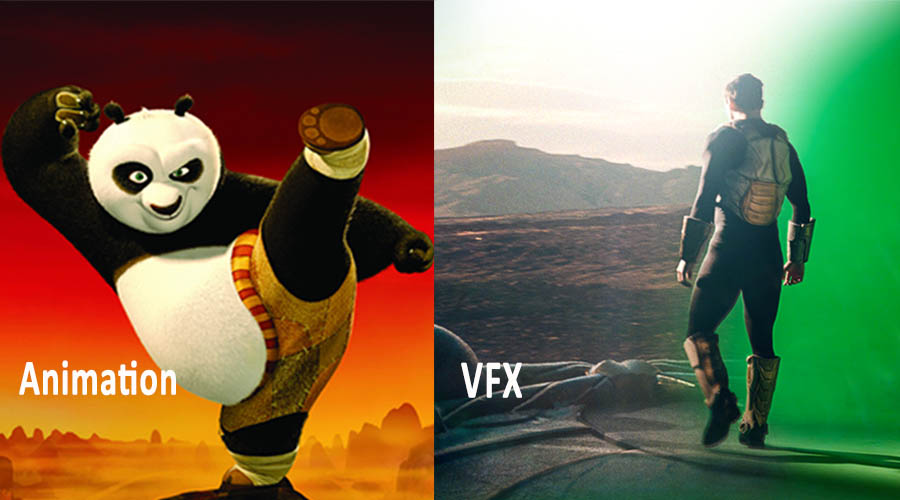 The animation is motion graphics used in the sketches or pictures to create characters and their motion. However, VFX is applied to real things like scenes footage, frame, or human beings. As a creator, you would be working in different media. For instance, in animation, you work on different computer animation or traditional or 3d animation. But, with VFX, you might have to work with digital paintings, software, and different techniques like rotoscoping (a manual technique to create a matte for elements on a live-action plate) and compositing (combining the visual elements from different sources).
What is the difference between VFX and special effects?

Special effects are the elements photographed by the camera. They are any effects done on sets like make-up effects, stunt work, creature suits, explosion, and anything shot on camera. Creators combine both visual effects and special effects to enhance visual quality. For instance, the Star Wars trilogy was made using special effects. Later, they combined both visual effects and special effects in their films. Likewise, SFX is done during production. But, as explained earlier VFX is a post-production work.
Some VFX inspiration channels for YouTubers
Again, Visual Effects are not just for big buster. Indeed, VFX is accessible and creators can learn and apply VFX using different softwares and modify their footage. Moreover, this is a unique way that you can stand out from other creators. Many YouTubers embrace the use of VFX for their content and here are some:
This is an interesting channel from Zach King with the original videos and tutorials. This channel highlights the use of programs like Apple Motion, Soundtrack Pro, Final Cut, etc. His video content is quite creative and funny. His channel with tutorials and cool effects will teach you lots of VFX tricks and tips.
Here is Indiana Bones-adventure of a cute puppy in the search of his lost bark. Zach is an inspiration to follow for interesting concepts and VFX effects.
Surfaced Studio is an impressive channel of various filmmaking, VFX, and 3D videos.
Here is a tutorial to use Matte in Adobe After Effects. This channel focuses on programs like Autodesk 3ds Max, Adobe After Effects, Cubase mostly.
How to learn VFX?
Do you need a special school to learn VFX? Or can you do self-learning? Well, it depends on what you want to get. Higher education is always a good idea. But you can learn VFX from scratch on your own. Similarly, there are separate departments in big movies. You can be a generalist as well. Learning what you want to do will help you to choose the adequate tools.
#1 Decide what you want
VFX is a broad topic. But you have to be aware of what field interests you the most. The most fundamental includes the concepts of transparency and the interpretation of images inside a compositor. Also being good at mathematics and programming will help you in the long run as software enables you to perform expression and code. Decide if you want to work on lighting, matte paint, rotoscoping, compositing, mechanics movement, etc.
#2 Choose a software
Start with Adobe After Effects which is the most accessible and has abundant tutorials online. But there are different software according to the specific requirements.
Character Design: Use Zbrush if you are a big fan of sculpting.
Architecture: 3 Ds MAX is best for hard surface modeling.
Complex scene animation: MAYA is an industry-standard, powerful, and flexible software for learning complex animations.
#3 Start Creating
Regardless of what approach you take, pick one tool, and start learning. Come up with the idea, replicate something, recreate the character. For instance, build start warships. Some depend on mixing tools, so make sure to explore all interfaces. If you have enough passion, your brain will generate.
Wrap Up
Well, learning to integrate VFX in videos can take time, but it's worth the investment. VFX is not just about technicalities. Moreover, it is a way of thinking. If you are aware of core concepts, you will find yourself in a position that you can come up with your own. Create that project that is out of inspiration and passion, something that will get you to keep moving.
BAM Music offers a creative library of stock music for your videos. Keep your license worry-free. Here are few video editing hacks you don't want to miss out on.