Video is a powerful tool to increase the effectiveness of your social campaigns, email marketing, and landing pages. In the era where people have a really short attention span, you need to do something to keep people hooked to your video. Though we have different industry metrics on video marketing, the legacy rule is 'Don't Be Boring'. Let's uncover some tips on how to not make boring videos.
Video consumption statistics
Video content will be something people cannot resist. Look at the following numbers:
By 2021, average people will spend approximately 100 minutes watching online videos every day.
63% of business claims that video gives the best ROI (Return on Investment) on a social media.
Every month, 85% of Internet users watch video content in the U.S.
Here are some inspirations to follow:
#1 Engage the curiosity factor
There is a thin line between creating curiosity and audience understanding. Therefore, try to fill a void between things that audiences know and what they want to know. For instance, if you are creating testimonial videos for marketing without any curiosity gap and boring titles like "customer testimonials", your audience will not tolerate watching everything.
For instance, the TED-Ed has lots of interesting videos. They choose concise videos with enquiring answers.
There is no such thing as BORING INFORMATION, Only BORING PRESENTATION.
#2 Tell human stories
Another way to make an interesting video is by telling a real story. For instance, "Video on Pope Francis- making a child cancer survivor dream come true" would be watched with joy.
This is a secret behind various nonprofit business and journalism videos. For example, Duckrabbit's TV campaign uses the real stories of donors to make them care.
This is a beautiful story of a self-taught design engineer. Moreover, it's a father's journey to give a 3D printed hydraulic prosthetic for children. Now, he has a company that makes affordable and customer fitted prosthetics for children all around the world. They have engineering stories worth spreading.
#3 Think Genres
Creating videos without personas is like watering a pot without the plant. Remember how you go to Netflix and choose genres. That's how your video diversifies to the audience. One boring video of a historical documentary would be interesting to another human.
Here is the clip from Denise Robert McKee's presentation at Content Marketing.
So, know what you are crafting and for whom.
#4 Show instead of telling
Another way to stop making boring videos is avoiding "Talking Head Syndrome". Many studies show that audience attention declines just after 8 seconds of watching an orator speaking. Though many videos need spoken content for delivering the message, I recommend not to take longer shots without edits. A person chattering without a blink of an eye might be a big turn-off for the viewers. For instance, show interesting video illustrations over a narrated content. Do not keep long explanations. Instead, portray action shots for conveying the message.
Do you know why explainer videos are trendy? It's because of the interesting visual contents.
Here is the explainer video style for your business. They have a great animation style too.
#5 Hook your audience
According to video consumption data of Facebook in 2016, 45% of people who watch 3 seconds of a video will watch it at least for 30 seconds.
This data demonstrates that the hooking factor of a video can either make or break your video. So, what hooks your audience? Though the whole idea of this blog is to make your audience hooked to you, here we are talking about the first few second's hook. Few ways that you can do so:
Introduce audience problem and offer a solution
Deliver a promising story
Use text and good video thumbnails
#6 Its time for Music
Adding music to video helps things keep moving. It gives vibes and amplifies emotion. Another importance of music is your chosen soundtrack underscores who you are as a brand. Whether it's a chill downtempo or soul instrumental, music helps the audience to imagine your identity in the best ways.
For example, if you are targeting an older group, you can use nostalgic tunes of pop music. Remember to keep it low if you are using background music. Music synch libraries can be your ideal options to get copyright free music. Also, check out some tips on how to choose music for your marketing videos and promotional videos.
#7 Color & exposure
Videos' color balance, saturation, and brightness have great influences on the way your viewer perceives them. You should choose those colors and exposure that best supports your story mood. There is no particular rule here. So, it also depends on your perspective that leads your spectators towards your prospect.
For instance, if you are shooting in the snow, adjust the exposure to make the picture brighter. Similarly, you can use the white balance to give a winter feeling to snow. On the other hand, if you are doing indoor scenes, then use the white balance for making things warmer. Also, adding a vignette can give a frame to the shot.
Here is a tutorial on getting perfect exposure and color.
#8 Composition
Moving towards technicalities, other factors that make a great video is 'The rule of thirds'. If your screen is divided into 2 horizontal and 2 vertical lines, the focused object should be placed at the intersection of two lines. We can notice that amateurs' videographers tend to keep the main subject in the frame's center. There is no right or wrong with this technique. You should try and see what gives you the best feeling.
But since you want your viewer to share your experience when an object moves from right to left, the object will have a sense of depth. This leads the main focus to be in the bigger context giving a better story.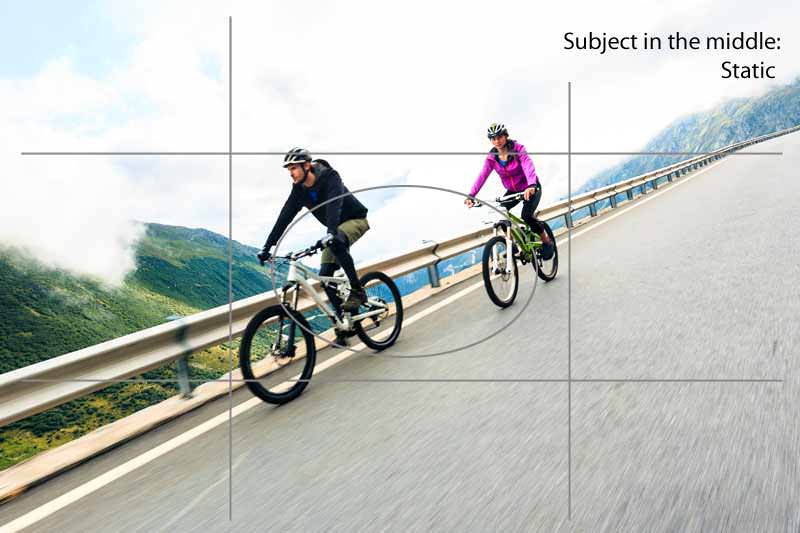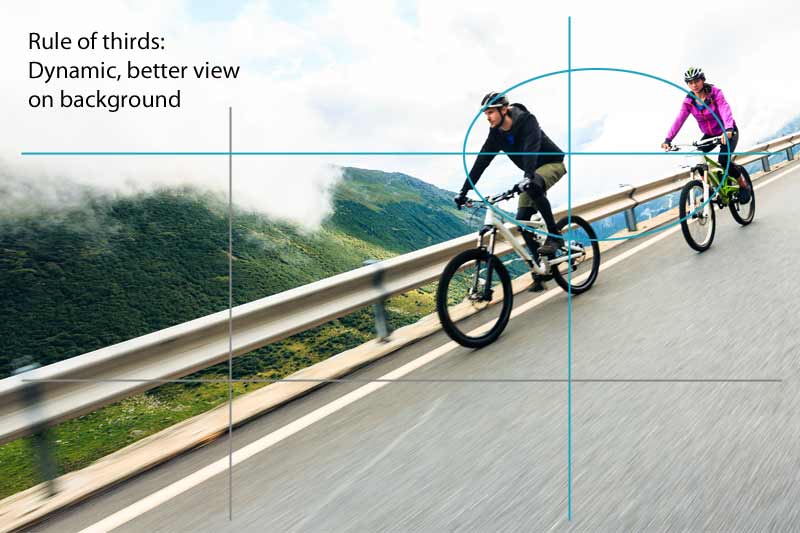 Remember to shoot at a maximum resolution so that you will have the freedom to cut a frame during edits. Trust me this won't let your video go boring.
Here are 10 video editing hacks for you to begin with.
Video marketing is not as complex as it seems. You have to discover what video contents your niche will like. Explore the possibilities and make the best of your videos. Check this Rock O'clock playlist to fuel your videos.